Database Software & Intranet Solutions
If you spend more time defending your database to your staff than you do praising it then it's time to think about a Black Culm database software solution
.
Our technical skills at Black Culm are rooted in databases, but we have applied all of the standards that we demand of our websites to our database software. This means that they are highly intuitive and require little or no training in order to use them. We design our database software with one thing in mind: to create the most simple and direct way to execute tasks in order to make your life easier without having to input the same information more than once - a little pet hate of ours. These standards ensure that all of our database users are now reaping the benefits of having software that actually improves the way that they work, removing repetitive tasks and saving them valuable time.
If you don't have a database
Then the world is your oyster. Talk to us about your requirements and we can build your ideal database to make great leaps in efficiency.
If you already have a database ...
Then there are a number of options available
Enhance your existing database
If it is in one of the formats that we work in (Microsoft SQL Server, Microsoft Visual FoxPro or Microsoft Access) then we can work directly on them to improve the areas which you feel need work.
Black Culm plug-in
Whatever the database format we can create a second application which runs alongside your existing database. This ensures that the current features which are working just as you would like them to be are left alone and the Black Culm software adds additional functionality by connecting to the same database.
Complete rewrite
Sometimes it is better and cheaper to start again than to keep investing time and money into an old database system which is no longer suitable for your business needs, especially if this was done in-house originally. We can convert your existing database into a completely new application and you'll never look back
Get into your intranet
Just because you use software to interact with your database does not mean that you can't extend your data into an intranet [an intranet is simply a website which runs within your network and is not available to the outside world]. With the ability to connect to any database an intranet can be used to fully interact with your database using just an internet browser (we recommend Internet Explorer for all applications), or you can use it to display sales reports to your staff without giving them full access to the database. In addition you can also add any of the features of a website to the intranet. You will be amazed at what can be done on an intranet.
Case study
The Tae Kwon-Do Association of Great Britain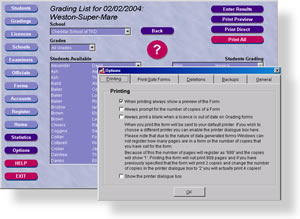 The Tae Kwon-Do Association of Great Britain is Europe's largest single martial arts organisation with nearly 20,000 members and over 450 clubs. Their instructors use the Black Culm School Management Software to run their schools. With over 120 individual users all around the country the software really gets some use.
It handles all of their student's details, gradings, licences and competition entries and has over 30 interactive official printable forms. They even have a mailmerge module which creates a Microsoft Word file containing all of the students that they wish to mail based on a simple wizard.
Regular updates are distributed to all of the instructors via a Black Culm website www.blackbeltschools.com and a newsletter is sent out keeping them informed.
Most of the instructors are highly critical of their own IT skills but they have all embraced the simplicity of the software and we receive very little support requests from them.
Pricing
Database software requirements are so diverse that we cannot give you a fixed price range as there are too many factors involved, but what we can tell you is that our solutions range from £150 - £15,000. If you talk to us we promise to make sure that you only have the advice that is relevant, and we will never try to get you to spend more money than is necessary.
If you would like more information about database software solutions then please use our Contact Us page?